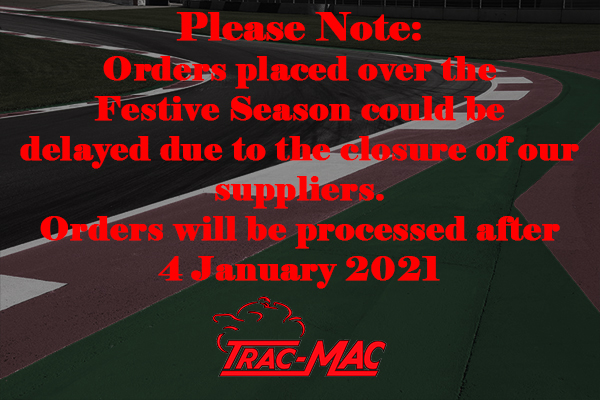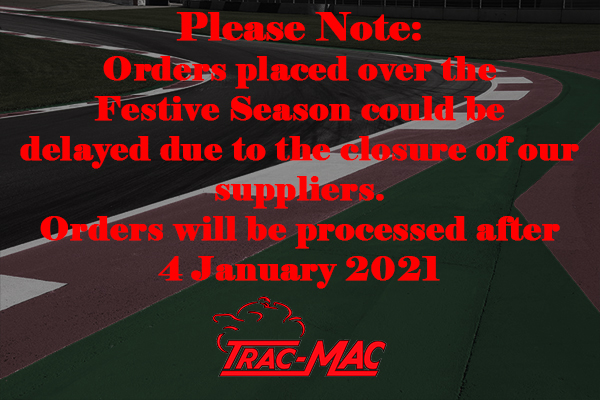 Back

Accessories

Battery Chargers

Battery Charger Accessories

Bike To Bike Communication

Bike Protection

Chain Lubes & Cleaners

Duct Tape

Fasteners & Bolt Kits

Foot Pegs

Handlebar & Grips

Stickers

Tank Caps & Breathers

Parts

Brake Hoses & Fittings

Chain Rollers

Fork Seals & Fork Bushes

Oil Filters

Spark Plugs & caps

Oils & Lubricants

Brake & Clutch

Chain Lubes and Cleaners

Engine & Gear Oils

Fork Oil

ELECTRICAL

Bike To Bike communication

Globes

Handlebar Switches

Spark Plugs

Spark Plug Caps

Starter Motors

Ignition

Hour Meter

Indicators Universal

Speedometers

Electrical Cables

Tyres & Wheels

Spoke Skins

Tyre Repair

Wheel Balancers, Bead Breakers & Tyre Changers

Tyre Combinations - Front & Rear

Tyres Less 20%

Helmets

Riding Gear

Goggles

Hydration

Knee Sliders

Leg Bags

Socks

Neck Brace

Neck Warmers & Face Masks

Race Suits

Riding Style

SELECT YOUR

Off Road

Boots

Motocross Helmets

Goggles

Goggles

Radiators

Adventure

Boots

Pants

Gloves

Neck Warmers

Protection

Sport

Boots

Jackets

Pants

Clothing

Gloves

Protection

Knee Sliders

Touring

Jackets

Gloves

Neck Warmers

Seat Pads

Communication

Contact us

Trac-Mac Online

Tel: 021-917 1172 E-mail: sales@trac-mac.com

Trac-Mac Bellville

9 C/O Raglan & Aylesbury Street Bellville Tel: 021-945 3724

Trac-Mac Wynberg

33 Main Road Plumstead Tel: 021-761 4220

Trac-Mac Paarden Eiland

28 Marine Drive Paarden Eiland Tel: 021-510 2258
Cardo Freecom1+ Duo
Twin unit for Rider-To-Pillion
Spend
R1,500.00
more and get Free Shipping!

The Cardo Freecom 1+ is a Bluetooth communication system for the solo or 2-up rider. It has slim 40mm speakers and a hybrid-style microphone that are compatible with most helmets. Take advantage of the built-in FM receiver or stream music from a paired smartphone. Additionally, use a paired smartphone for GPS navigation, making or receiving calls or setting up system preferences within the Cardo Connect app. 
Features:
Intercom communication between passenger and rider
2 Bluetooth channels to connect with phone/GPS devices
Phone features include make/receive/reject calls, speed dial, conference call with intercom, receive in-helmet navigation instructions from compatible GPS devices
Stereo Bluetooth (A2PD) for wireless music streaming
Parallel audio streaming so music and GPS instructions continue during intercom calls
Customizable voice control technology (VOX) for different ambient noise levels
Customizable speaker volume (through AGC) for different ambient noise levels
Cardo Connect app compatible with iOS and Android
Customize setting and software updates through Cardo community
Multilingual setting menu and voice announcements
Hybrid style microphone
Slim replaceable 40mm stereo speakers
IP67 waterproof and dustproof
Up to 13 hours talk time
Bluetooth 4.1
FM radio
Note:
 Includes a single charging cable but not a wall charger. 
SOUND:
All the music you ever wanted streamed directly from your smartphone. Control, share and experience your favorite tune on the road. 
PHONE:
Answer calls, make calls and control your mobile devices with a touch of a finger or the sound of your voice. No one will ever guess you are talking from your ride.
IMMERSIVE SOUND:
Thin 40mm speakers and an advanced processor
AUTOMATIC VOLUME:
Automatically adjusts your sound volume based on the outside ambient noise. Enjoy Vivaldi at full throttle. Don't get deaf by AC/DC waiting for the lights turn.
2-WAY INTERCOM:
Rider to passenger short range intercom keeps you both connected at all times. Even comes pre-paired if you buy a set of two.
AERODYNAMIC DESIGN:
The thinnest top of the range motorcycle communication system. Only 6.5mm thick.
AUDIO SHARING:
Share your play list or favorite radio station with your passenger. Enjoy the vibe together.
CHARGE WHILE YOU RIDE:
Forgot to charge your unit? Running out of battery? Just plug your unit to a battery pack or your 12V charger and turn your unit on. It will charge while you ride.
FM RADIO:
Built-in FM Radio with RDS for automatic selection of the strongest signal – whether you are in town, or in the middle of nowhere.
ONE KILLER APP:
Get full control through one simple and intuitive app, but don't take our word for it, just download Cardo Connect and find out for yourself.
UNIVERSAL CONNECTIVITY:
Connect your unit to any Bluetooth headset of any substantial brand.
CALL TO INTERCOM:
Merge any incoming phone call into the intercom conversation. With call to intercom no friend is ever out of range.