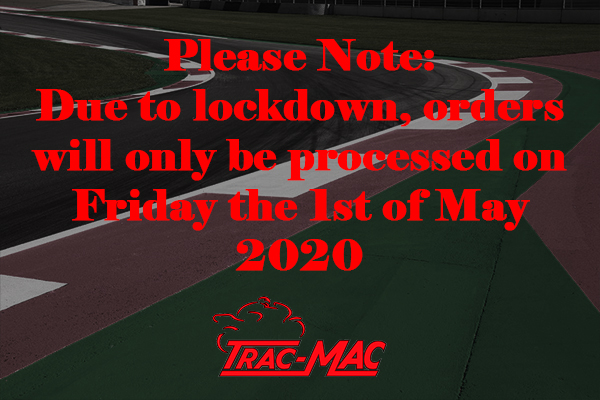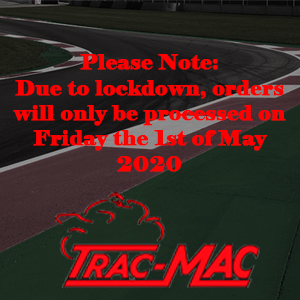 Back

Accessories

Battery Chargers

Battery Charger Accessories

Bike To Bike Communication

Bike Protection

Chain Lubes & Cleaners

Duct Tape

Fasteners & Bolt Kits

Foot Pegs

Handlebar & Grips

Stickers

Tank Caps & Breathers

Parts

Brake Hoses & Fittings

Chain Rollers

Fork Seals & Fork Bushes

Fuel Filters

Fuel Taps & Rebuild Kits

Oil Filters

Spark Plugs & caps

Oils & Lubricants

Brake & Clutch

Chain Lubes and Cleaners

Engine & Gear Oils

Fork Oil

Contact us

Trac-Mac Online

Tel: 021-917 1172 E-mail: sales@trac-mac.com

Trac-Mac Bellville

9 C/O Raglan & Aylesbury Street Bellville Tel: 021-945 3724

Trac-Mac Wynberg

33 Main Road Plumstead Tel: 021-761 4220

Trac-Mac Paarden Eiland

28 Marine Drive Paarden Eiland Tel: 021-510 2258

Riding Style

SELECT YOUR

Off Road

Boots

Motocross Helmets

Goggles

Goggles

Radiators

Adventure

Boots

Pants

Gloves

Neck Warmers

Protection

Sport

Boots

Jackets

Pants

Clothing

Gloves

Protection

Knee Sliders

Touring

Jackets

Gloves

Neck Warmers

Seat Pads

Communication

ELECTRICAL

Bike To Bike communication

Globes

Handlebar Switches

Spark Plugs

Spark Plug Caps

Starter Motors

Ignition

Hour Meter

Indicators Universal

Speedometers

Tyres & Wheels

Combinations - front & rear

Spoke Skins

Wheel Balancers, Bead Breakers & Tyre Changers

Tyre Repair

Helmets

Riding Gear

Goggles

Hydration

Knee Sliders

Leg Bags

Socks

Neck Brace

Neck Warmers & Face Masks

Race Suits
LFX18A1-BS12
Shorai Lithium LFX18A1-BS12 Battery Voltage Pb Eq                  12VAH Pb Eq                         18Weight(KG):                     0.997
Cold Cranking Amps:       270
Max Charge Rate (A)       18
Polarity:                            

[

+ 

-

]
Length (mm)                     148
Width (mm)                       66
Height (mm)                     105
Spend
R1,500.00
more and get Free Shipping!

SHORAI LFX Lithium-Iron Powersports battery, 18Ah PbEq 12V eq, "A" polarity, Case Type 1
 Yuasa Part No.YTZ14S, YT12A-BS, YT12B-BS, YT14B-BS, YTZ12S Lighter, Stronger, Better! Shorai LFX™ batteries deliver more energy faster, with less weight than any other brand or technology available on the market today. Shorai LFX™ weigh as little as 20% of the orignal-equipment battery, and do not suffer the chemical sulfation that kills lead acid batteries as they sit untended. The batteries are easy to install, and have the same charge requirements as lead-acid types. Typical motorcycle charging systems range from 13.7V to 14.8V output voltage. Shorai LFX 12v series require a minimum charging voltage 13.1V or higher at idle, and must not exceed 15.2V charge maximum. 
Most powersports enthusiasts have gotten used to hooking up a trickle charger to their lead-acid batteries, all the time. Shorai LFX have a much slower self-discharge than the best lead acid batteries, they do not sulfate as capacity drops, and they are the ultimate "deep cycle" battery. This means that they can still crank your vehicle even if the remaining capacity is quite low.
A fully charged LFX can sit for a year or more and still retain adequate starting capacity, without damaging the battery. As such, any vehicle which has no current flowing when the key is OFF should not need a tender. At most this battery only needs to be charged every 6 to 12 months, depending on the use and average storage temperature. Newer vehicles may have a significant draw even when the key is OFF, to maintain clocks and computers, etc. In this case Shorai expects that a few hours of riding per month will be all that is needed to avoid tending.
If you know that you will go a number of weeks or months without riding, you can either attach a tender, or disconnect the negative cable from the battery.
Features:
Faster cranking for better starts
Ultra light- one fifth the weight of lead-acid batteries on average
Holds unloaded charge for one year without maintenance
Zero sulfation for longer service life
Super-fast recharge rate
No explosive gasses during charge, no lead, no acid
Military spec carbon composite case
Multiple terminal connection options
Includes adhesive back foam sheets
Factory activated
Environmentally friendly
Notes:
It is extremely important that you use only the appropriate battery for your bike. A battery with incorrect amperage may damage the battery and your bike.
Shorai Batteries require a charging system output of 13.1 Volts or higher at idle and must not exceed 15.2 volts at maximum output.
Shorai recommends NOT using a charger or trickle chager if it has a desulfation mode which cannot be turned off. However the best possible charger/tender for the Shorai LFX is the Shorai SHO-BMS01 Battery Management System.