Due to the current unrest in some areas, there may be significant delivery delays.
Back

Accessories

Battery Chargers

Battery Charger Accessories

Bike To Bike Communication

Chain Lubes & Cleaners

Duct Tape

Fasteners & Bolt Kits

Foot Pegs

Handlebar & Grips

Tank Caps & Breathers

Parts

Brake Hoses & Fittings

Chain Rollers

Fork Seals & Fork Bushes

Oil Filters

Spark Plugs & caps

Oils & Lubricants

Brake & Clutch

Chain Lubes and Cleaners

Engine & Gear Oils

Fork Oil

ELECTRICAL

Bike To Bike communication

Handlebar Switches

Spark Plugs

Spark Plug Caps

Starter Motors

Ignition

Hour Meter

Indicators Universal

Speedometers

Electrical Cables

Tyres & Wheels

Spokes

Tyre Repair

Wheel Balancers, Bead Breakers & Tyre Changers

Tyre Combinations - Front & Rear

Tyres Less 20%

Helmets

Riding Gear

Goggles

Hydration

Knee Sliders

Leg Bags

Socks

Neck Brace

Neck Warmers & Face Masks

Race Suits

Brands

Contact us

Trac-Mac Online

Tel: 021-917 1172 E-mail: sales@trac-mac.com

Trac-Mac Bellville

9 C/O Raglan & Aylesbury Street Bellville Tel: 021-945 3724

Trac-Mac Wynberg

33 Main Road Plumstead Tel: 021-761 4220

Trac-Mac Paarden Eiland

28 Marine Drive Paarden Eiland Tel: 021-510 2258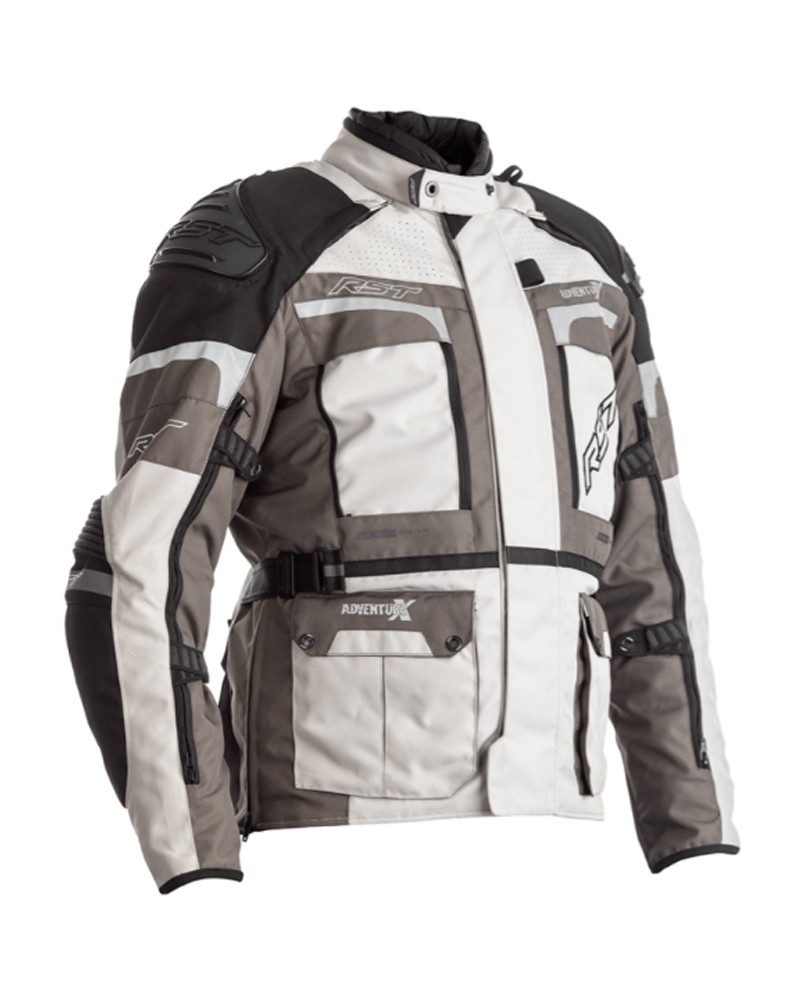 RST Pro Series Adventure-X
The Pro Series Adventure-X jacket and jean is a must have for all adventure riding. Upgraded with input from legendary Dakar Rally finisher Mick Extance, (who know's what is needed to make the best motorcycling jackets for adventure riding!)
This is a high specification jacket: It's double layered. Made from MaxTex – a lightweight high denier synthetic material that offers great protection and is comfortable to wear. Additionally, a Ballistic textile is overlaid over key impact areas along with the triple stitching using a coated bonded nylon thread offers increased abrasion resistance.
Spend
R1,500.00
more and get Free Shipping!

A new addition to our newest Adventure jacket is the new innovative and removeable X-Liner – a singular lightweight lining which features the quilted thermal liner and the SinAqua waterproof membrane combined together. This can be removed easily and stored in the rear jacket map pocket. This along with the superior levels of ventilation in the form of the fixed comfort mesh lining and multiple chest, arm and rear vents ensure superb levels of air flow in and out of the jacket, keeping you cool as you ride.
Add in the class leading armour; it has a CE certification rating of AA and CE Level 2 back protector and shoulder and elbow armour along with TPU shoulder cups and you have a garment ready to protect in the event of any impact. And if that wasn't enough, hardwearing MAX zips are used throughout the jacket and there are stretch motion panels and adjustment points on the arm and waist to offer the most comfortable fit.
From huge ventilation points to CE armour, the RST Adventure-X jacket is everything you need a textile adventure motorcycle jacket to be and more!
DETAILS
ARMOUR
CE Certification Rating: AA
Back Protector: CE Level 2
Shoulder Armour: CE Level 2
Elbow Armour: CE Level 2
Shoulder Cup: TPU
CONSTRUCTION
Main Outer Material: MaxTex
Secondary Material: Ballistic
Waterproof Lining: Removable Quilted Thermal Liner Bonded with Waterproof SinAqua Membrane
Inner Lining: Fixed Comfort Mesh Lining
Zips: Max Zips
Thread: Bonded Nylon - Triple Stitched
Ventilation: Chest, Arm & Rear Vents
Connection Zip: Yes - 360º
FEATURES & BENEFITS
Adjustment: Waist Adjusters
Reflective Detail: Yes - Reflex Logos
Outer Pockets: 2
Map Pocket: Removable
CHEST: Measure around the fullest part under the armpits, keep tape horizontal.
You might also like
Price
R6,695.02
Regular price
R9,564.32
-30%
More info
Price
R6,245.51
Regular price
R8,922.16
-30%
More info