Due to the current unrest in some areas, there may be significant delivery delays.
Back

Accessories

Battery Chargers

Battery Charger Accessories

Bike To Bike Communication

Chain Lubes & Cleaners

Duct Tape

Fasteners & Bolt Kits

Foot Pegs

Handlebar & Grips

Tank Caps & Breathers

Parts

Fork Seals & Fork Bushes

Oil Filters

Spark Plugs & caps

Oils & Lubricants

Brake & Clutch

Chain Lubes and Cleaners

Engine & Gear Oils

Fork Oil

ELECTRICAL

Bike To Bike communication

Handlebar Switches

Spark Plugs

Spark Plug Caps

Starter Motors

Ignition

Hour Meter

Indicators Universal

Speedometers

Electrical Cables

Tyres & Wheels

Spokes

Tyre Repair

Wheel Balancers, Bead Breakers & Tyre Changers

Tyre Combinations - Front & Rear

Tyres Less 20%

Helmets

Riding Gear

Goggles

Hydration

Knee Sliders

Leg Bags

Socks

Neck Brace

Neck Warmers & Face Masks

Race Suits

Brands

Contact us

Trac-Mac Online

Tel: 021-917 1172 E-mail: sales@trac-mac.com

Trac-Mac Bellville

9 C/O Raglan & Aylesbury Street Bellville Tel: 021-945 3724

Trac-Mac Wynberg

33 Main Road Plumstead Tel: 021-761 4220

Trac-Mac Paarden Eiland

28 Marine Drive Paarden Eiland Tel: 021-510 2258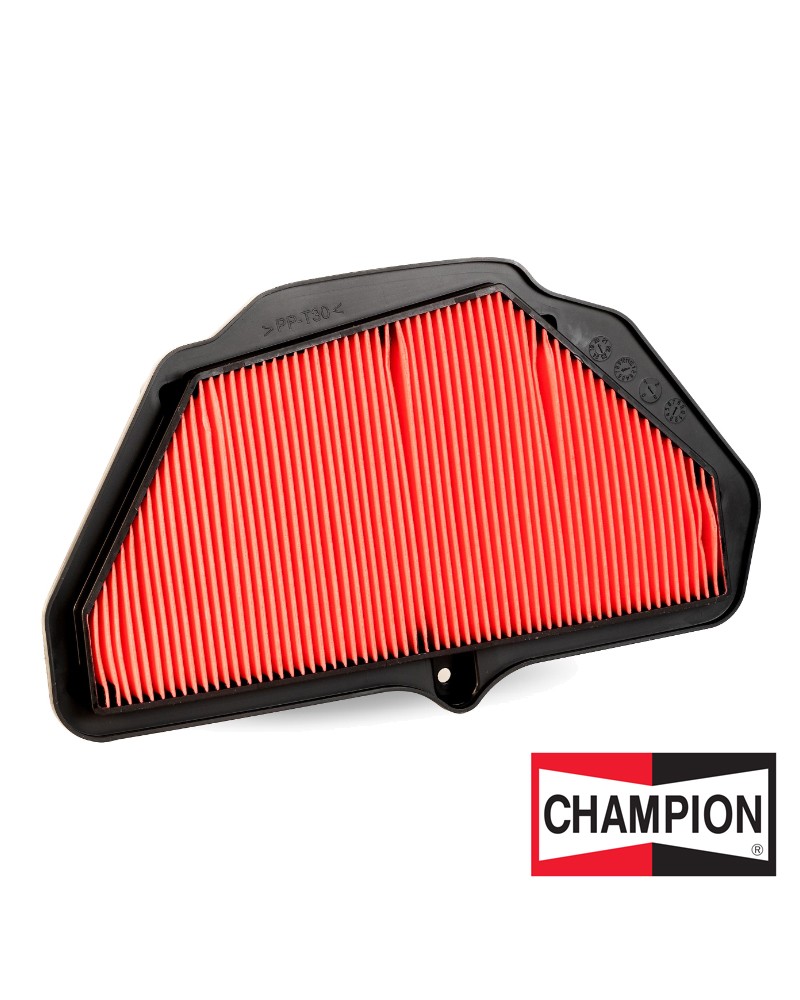 Champion Air Filter - ZX-10R/RR
Tax included
- Shipped within 7 - 10 working days.
Fits:
KAWASAKI
ZX-10R Ninja '19-'22
ZX-10RR '19-'21
ZX-10R SE '19-'20
Spend
R1,500.00
more and get Free Shipping!

Champion®motorcycle air & oil filters are precision-engineered to match or exceed OE standards. They are made from the highest quality materials and manufactured to exacting standards ensuring virtually zero defects. On the road (and off the road) they deliver maximum performance with unrivalled protection.
Here are the advantages to choosing Champion®air and oil filters for your motorcycle:
Extended Life: Independent tests (ISO 4548 - oil, and ISO5011 - air) have shown that Champion®filters, both air and oil, outperform the competition and guarantee quality filtration across our entire motorcycle filter program. Ride on!
Superior performance: Our filter paper is unique and impregnated with resin that removes even the most damaging contaminants from the oil. Pleated, cured and mechanically joined to guarantee 100% filtration.